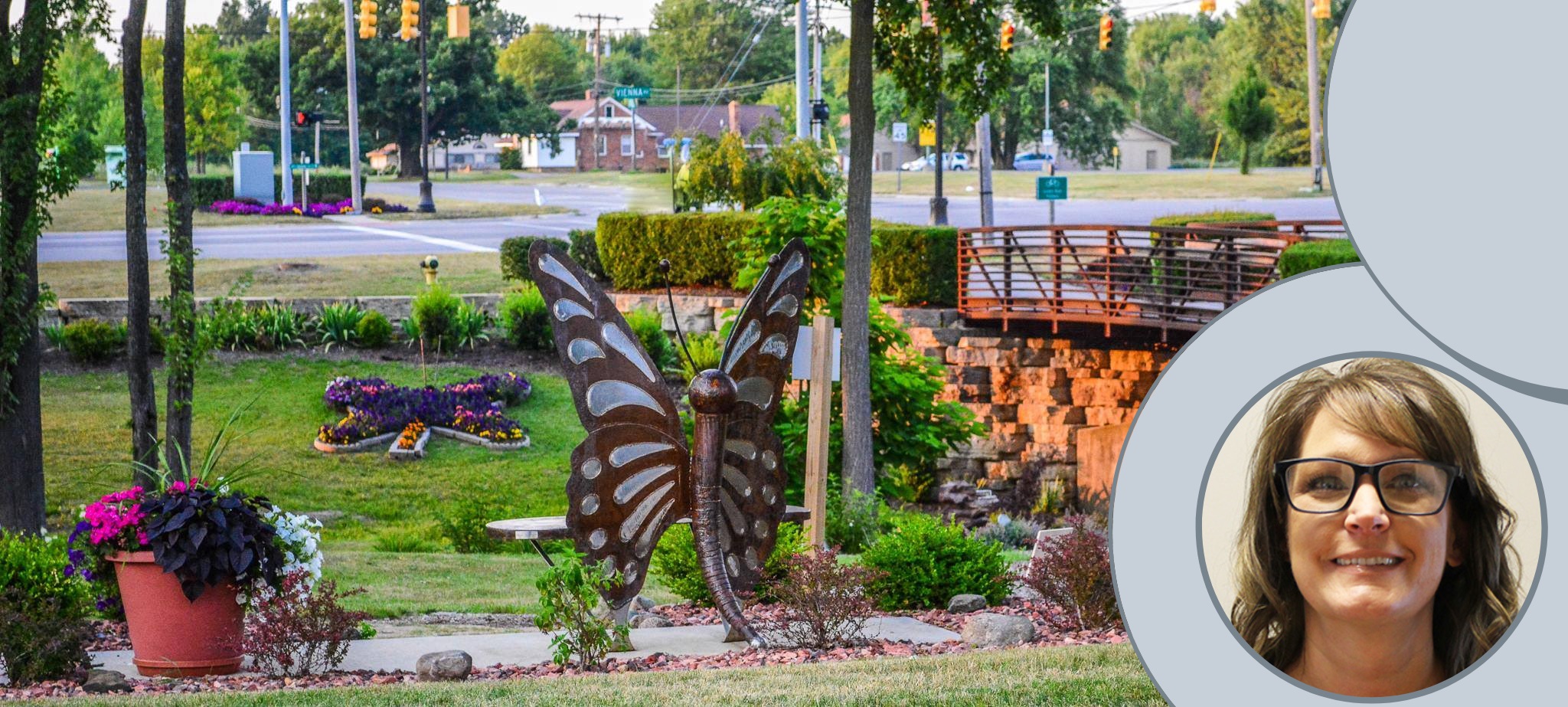 27 Jun

Like a Local: Suzanne Maxwell

Suzanne Maxwell has lived in Genesee County for almost her entire life. She started her career in public service in nearby Bay City as an administrative assistant for the Bay City Downtown Development Authority, where she eventually worked her way up to Executive Director.

In 2020 Suzanne realized she wanted to serve the community in which she lived. So, she made her next career move to Vienna Township, a bedroom community and popular stop for motorists passing through on their way up north.

Here's a snapshot of what her typical day looks like.
EARLY MORNING
I'm an early riser and start my day around 4:30 a.m. I usually take an hour to just go through my email, check social media, and talk with my husband before I work out. We live on the outskirts of town. We're on a busier road, but we're on a couple acres with a large back yard. It makes it feel like we're out in the country.
Once a month, I attend the Common Ground meeting, which starts at 8 a.m. and brings together business and community leaders from all over Vienna Township, Clio, and beyond. It's a one-hour meeting where we share what we've been doing and what's coming up. Yes, we talk about the kinds of things that could be covered in an email, but I always leave feeling really good because I've touched base and connected with my peers. There's just such a strong sense of community here. It doesn't feel like we're competing for resources. We all look out for each other.
MORNING
It only takes me five minutes to get to the Vienna Township Business Development Authority, where I serve as Executive Director. I lead all sorts of economic development, business and placemaking efforts in our community. Right now, I am working on a pretty cool request for proposal (RFP) for Bridge Park. The park, located at the corner Linden and Vienna Roads, is home to a beautiful stream and Monarch butterfly sanctuary.
Many elements of the park are handicap accessible, including the picnic areas, but there's a 760-foot trail that's made of mulch. We'd like the trail to be wheelchair accessible, so this RFP is to find someone who can help us make that happen. I recently met with someone from the Disability Network in Flint – which is a great local resource – and they were able to walk me through how to go about this in the right way.  The next big item on my wish list is an inclusive playground, where kids of all ages and abilities can play.
AFTERNOON
I usually eat lunch at my desk, but when I do go out, I like to support our small businesses. Lucky's Steakhouse is located just down the street from our office and is always good. I also really like Black Horse Tavern and Billy's Pine Run Inn. Twin's Pizza & Grill is another great, locally owned business.
After that, I get back to work. Twice a month, I also attend meetings at the Clio Area Chamber of Commerce, where I serve as a board member. It's a nice complement to the work I do with the BDA.
EVENINGS
There are a lot of biking and walking trails in the area. When it's warm, my husband and I try to hit the Trolley Line Trail at least a few times a week. The paved path is well-maintained and runs through a mostly rural, farmland environment. It also connects to Clio's George Atkin Jr. Recreational Trail, where there are more woodland views.
WEEKENDS
One great thing about living here is that we can go boating without missing out on the four seasons. You can't do that in every state!
We spend a lot of time on the water during the summer. We take our jet ski to Holloway Reservoir, which is part of the largest county park system in the state. We also have a boat that we keep at the Bay City Yacht Club, which is located on the Saginaw River and just a short distance to the Saginaw Bay and Lake Huron. To be just a 35-minute drive from such open water is huge.
We love it there – the location offers the best of both worlds. You can take a river cruise for literally miles and miles, or you can go out onto the lake and head over to Port Huron or Caseville in Michigan's Thumb. So, one weekend, we might just stay home and get stuff done around the house. But if we decide on a Friday that we want to go up north or take the boat around for a couple of hours, we can easily do that, too. It's nice to have that flexibility.